Frederick Cook, M.D.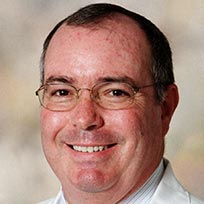 "I believe that it is important that I understand my patient's lifestyle, interests and activities. Then we can make decisions that best suit each individual. Helping patients remain active and pursuing their interests brings me a lot of satisfaction."
Dr. Cook, a Delaware native, received his undergraduate degree from the University of Delaware. "After college I spent two years doing clinical research at Children's Hospital of Philadelphia. I was involved in researching Retinopathy of Prematurity, an eye condition affecting some infants. I worked alongside neonatologists, but realized that ophthalmology was my true interest." He graduated from Jefferson Medical College cum lade and was elected to the Alpha Omega Alpha honorary medical fraternity. Following a one-year internship at Philadelphia's Thomas Jefferson Hospital, Dr. Cook completed three years of eye surgery training at the Washington (D.C.) Hospital Center.
Following four years of private practice in Florida, Dr. Cook returned to Delaware. He joined with Dr. Robinson in 1992 to help create the Delaware Eye Institute. During that time, Dr. Cook has maintained a practice focused on cataract surgery, medical treatment of glaucoma, diabetic eye disease and comprehensive eye care.