Charles D. Curry, M.D.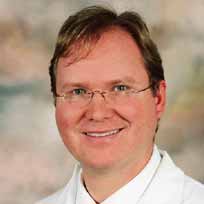 "I enjoy being the primary care physician of the eye. My training and experience allow me to address all aspects of eye care, both surgically and medically."
Following five years of private practice in Indiana, and years of Rehoboth Beach family vacations, Dr. Curry joined the Delaware Eye Institute in January 2007. Since that time he has established himself as a caring and skilled practitioner. His practice ranges from the surgical treatment of cataracts, to the medical treatment of such ailments as glaucoma and diabetic eye disease to ongoing and preventive care through routine eye exams.
Dr. Curry trained in ophthalmology at Wake Forest School of Medicine in North Carolina. "Wake was a hands-on program that allowed us to care for our own patients while we were there. It also gave us great access to the faculty." Following residency, Dr. Curry became certified with the American Board of Ophthalmology in 2003. During his career, Dr. Curry has witnessed great improvements in the technology of eye care. "I believe that ophthalmology has benefited more than most other specialties when it comes to surgical and diagnostic technology." Dr. Curry utilizes modern technologies such as Optical Coherence Tomography for diagnosis and White Star Phacoemulsification for cataract surgery.